Pop art is too large a category to cover adequately here, but it's fair to say that pop art embraces – or at least seizes on – the products of pop (mass) culture and turns them into art.
Appropriation is consequently the order of the day with much pop art.
If we look at proto-pop British artist Richard Hamilton's 1956 collage "Just what is it that makes today's homes so different, so appealing?" we may be reminded of Dadaist photomontage. The elements are all cut from American magazines (many of the sources are identified in the Wikipedia article on this work).
The work highlights the reality of art life and art in post-war Britain (their vulgarization and Americanization), heroicizing consumer products, pop culture, bodybuilding and porn as the focus of modern human striving. Like most pop art, there may be a touch of bitter irony here, but there is also a real acceptance of this modern world where higher ideals (and art) have been eclipsed. This is a mirror of us in a world whose values are shaped by consumer mass-media culture.
One of my personal favourite collage artists is Jess (Collins), a gay beatnik-y guy who did quite countercultural work in the 50s.
One of Jess's more surreal experiments was with Tricky Cad (1952-1959), a series of eight painstakingly recomposed fragments of cut-up elements from Dick Tracy, a popular daily comic strip of the day.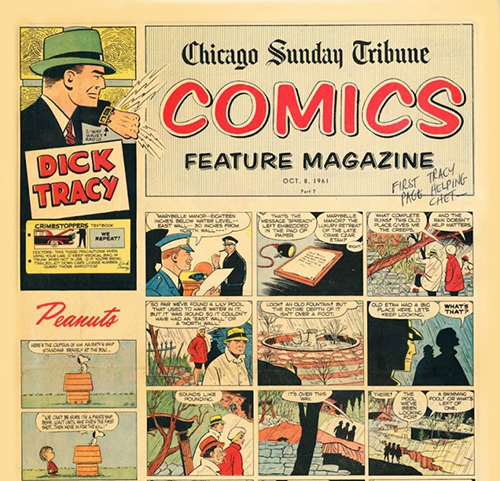 A more famous representative of pop who also appropriated from comic books was Roy Lichtenstein. He is most famous for isolating single frames from comic books and painting them as giant wall canvases. For instance, he took this frame from Tony Abruzzo's women's romance comic Secret Hearts (DC, 1962)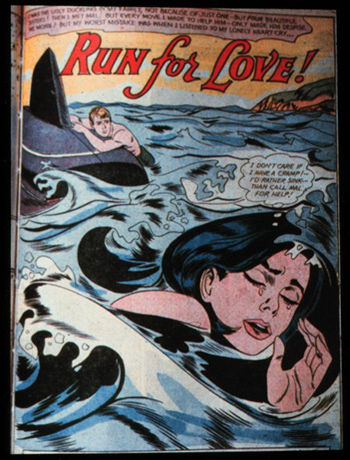 and turned it into this arguably feminist 5-ft square wall painting:
Similarly, a single frame originally drawn by William Overgard for the male action comic Steve Roper (1961)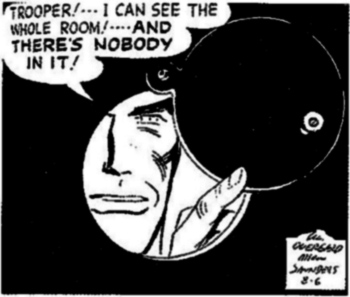 is recreated as a large canvas:
One can imagine the response of spectators in 1961, simultaneously confronted with a giant fragment of the cheap escapist culture they typically consume and with a seeming commentary on the emptiness of themselves as human beings. The work turns a tiny square from a comic book into an existential challenge.
Best known of the pop artists – and the pop art appropriators – is Andy Warhol. Many of his most famous works reproduce images from the popular press in new artistic media and styles. For example, almost everyone has seen some of his many treatments of Marilyn Monroe's face, begun a few weeks after her suicide, and done in many sizes and colour schemes over a number of years. Working from a publicity still for the 1953 movie Niagara, Warhol created templates for the silkscreening of dozens of different treatments of the subject.
For Warhol, and for most of his audience, Marilyn was a more iconic subject than the Virgin Mary, Joan of Arc, Salome, or any of the more mythological figures that had been the subject of earlier art. His repetition of her image also celebrated the easy and abundant repetition of mass culture, including magazines and newspapers, television and films. Though his own reproductions were not often hand-painted like Lichtenstein's, they were generally silkscreened – i.e. reproduced by hand in a handicraft process quite different from the printing techniques of mass media. In the great variety of colour schemes used – all very unnaturalistic and echoing the loud primal colours of product labels and cartoons – the subject of the pictures ceases to be a person and becomes the fantasy reproductions of pop culture themselves. Warhol did many such series, taking images from newspapers or movie stills, and creating images of Jackie Onassis, Elvis Presley, and the electric chair, for instance.
Warhol also appropriated designs from common household products, most famously a series of Campbell's Soup can labels and some "scultures" of Brillo boxes.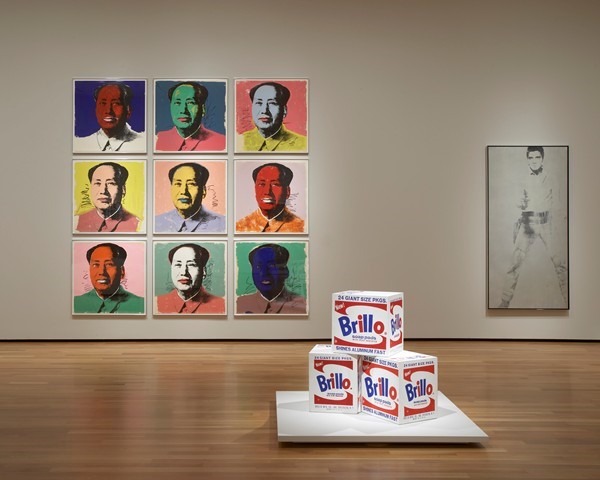 When pop artists appropriate it is generally from the most common and recognizable of mainstream culture: celebrities, ads, movies, consumer products. Sometimes they want to find the beauty in these familiar things, sometimes to make us think about them and what they say about us as a society, and sometimes they just want to defamiliarize things we have all seen so many times that we no longer really see them. Ironically, Warhol's own works perhaps now fall into this category.
Save
Save
Save
Save
Save
Save
Save
Save
Save