Dadaism was a radical politicized artist movement in the early 20th century. 1910-1920 was a time of immense upheaval in the Western world, especially Europe: new technologies such as the telephone, radio, sound recording, and film came of age; World War I was a giant bloodbath (also partly because of new technologies: the machine gun, tank, submarine, gas, aerial bombing, etc); the communist party managed to take power in Russia and create the Soviet Union; after years of struggle, women finally received the vote in many Western democracies; and in the arts the avant-garde threw out the rule-book from centuries of practice that had been devoted to creating beautiful diversions for the privileged class.
The Dadaists wavered between excitement and nihilism, wanting to tear down art and society and also move them to the next level.
Picasso and Braque – not Dadaists themselves – began experimenting with collage, sticking pieces of the real world on their canvasses and making them part of the art. Much of what they stuck was mass produced printed matter, and thus a form of appropriation (using someone else's work as part of your own work).
The Dadaists revelled in this kind of assemblage. It was an ironic comment on the uselessness of the individual artist and the outdatedness of the unique artwork in a world of cheap mass reproduction. It was an attempt to represent the reality of modern life as a mass-produced, commercial dreamscape of products, news clips, and celebrities. And it was at times a very pointed critique of the values of that mass commercial culture.
A work like Life and activity in Universal City at 12.05 midday (1919) by George Grosz and John Heartfield attempts to convey the chaotic bustle and overstimulation of a big city (or a cinema lot) by cutting up newspaper and magazine pages and piecing them together into a bewildering tableau of words and images competing for our attention, much like Times Square today.
Raoul Hausmann, one of the inventors of this technique, known as photomontage, suggested that the new medium of the cinema was one of the inspirations – the movement of cinema, but also the cutting techniques, abrupt changes of perspective and scale (the closeup and then a long shot). Hausmann said photomontage was "a kind of motionless moving picture."
Hausmann seems to have been more enchanted than appalled by the mechanization of modern man. His Self-portrait as a Dadasoph (1920) shows a person who is part animal, part machine, and part anonymous mechanically-reproduced image, but not a "human being" in the rich, deep sense it had had since the Renaissance and that a traditional portrait was meant to convey.
The dadaists were interested to see how art and human beings would be transformed by technology. They were apprehensive but also excited. In 1920 when the first Dada International Fair took place in Berlin, there were large panels on the wall saying "Art is dead" but then: "Long live Tatlin's new machine art". The panel was surrounded by photomontages.
Vladimir Tatlin was a leading Russian artist and designer in the new Soviet Union. Hausmann did a piece called Tatlin at Home (1920) that portrays the mechanical thought of this new human. The "portrait" is a photomontage, with the foremost figure in it actually a photograph of an unknown man Hausmann had chanced upon in a magazine.
The more postmodern strains of Dadaism were fairly anti-humanist. Suggesting that Tatlin could be any man (perhaps consistent with Soviet anti-individualism) and that the machine-like rational thinking was admirable and the way of the future, the  enthusiasm ties in with the photomontage work of the new Soviet Russian "Constructivists," generally very positive in their portrayal of mechanization and technology. (Russia had a long way to go, as it was basically an almost medieval farming-based country before the revolution, and the Soviets planned to industrialize rapidly, one of the ironies of their application of Marx's theories.)
Many Dadaists thought of themselves not exactly as artists, but as something else that had come to take the place of artists in the 20th century world: provocateurs, conceptualizers, designers, or indeed "engineers" (monteurs, in French). Photomonage was the art of the future, using the abilities of machines to reproduce both real life (photography, film, etc) and art (printing, photographic effects, and so forth). As Hausmann put it "We regarded ourselves as engineers and our work as construction … all the arts and their techniques needed a fundamental and revolutionary change, in order to remain in touch with the life of their epoch."
A more "human," perhaps, and more emotional kind of photomontage is to be seen in the work of my favourite of these artists, Hannah Höch. Höch was somewhat marginalized both within Dada and in the early critical response to it, due to the sexism of the time, but today she seems probably the most enduring and still interesting of the group apart from Marcel Duchamp. And she was certainly more dedicated and prolific than the more notorious Duchamp, who spent most of his life dabbling and playing chess.
Höch's works often seem to be meditations on femininity and sometimes also on things like racial difference – I think they speak strongly to a recognition of the legitimacy and interconnectedness of diverse members of humanity.
One of Höch's signature motifs is to replace the head or face of a woman with a different head, a "primitive" mask, parts of other people's faces, etc. Often the head is much larger than the body and often, as in the untitled piece from 1921 it is staring out at us.
The body here was taken by Höch from a women's magazine of the day. It shows the ballet dancer Anna Pavlova at the beach.
Höch replaces Pavlova's head with part of a disquieting face found in another print source, and mounts the woman on a machine of some kind, which makes her look a bit like a figurine on a music box.
John Heartfield, a German whose birthname was Helmut Herzfeld, was a politically committed communist. (This was before the Soviet Union had become a totalitarianism under Stalin and gradually become synonymous with fascism during the Cold War. Communism in the early days after the Russian Revolution  was seen by many progressive people of conscience as the most forward-looking and humane answer to many of humanity's problems. It's artists were also cutting edge.)
Heartfield was a pioneer in using art as a political weapon. In countless satirical or grim photomontages he sent up those in power by assembling pop culture media images to create new juxtapositions.
Jedermann sein eigener Fußball (Every man his own football, 1919) was meant to be satirical bimonthly of political commentary. The cover features Heartfield's Who is the most beautiful? a montage that presents various political leaders in a fan suggesting they are competing in a beauty context or a girly magazine. The publication was immediately seized by the police when it appeared in 1919.
Heartfield remained oppositional and instrumental in critiquing those in power until he was finally forced to flee Germany when the Nazi SS came to arrest him in 1933. He was responsible for some of the most trenchant anti-Nazi propaganda of the period.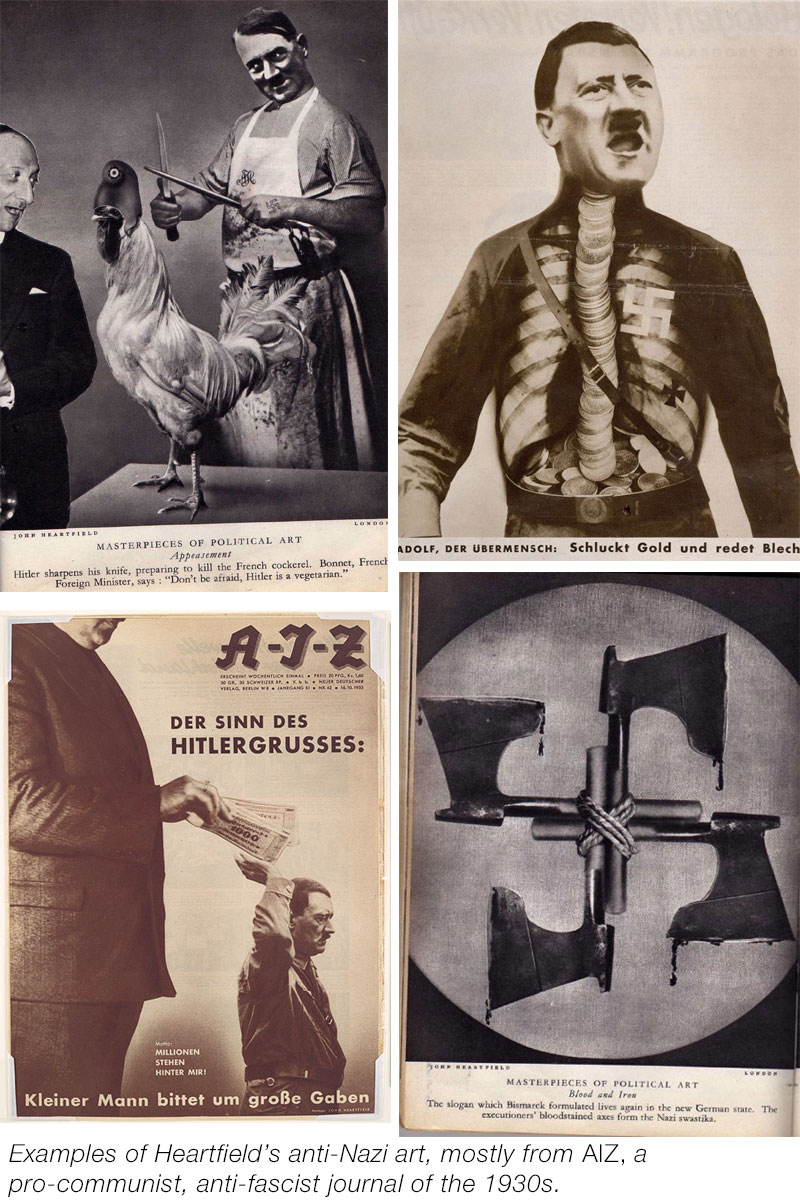 [for later expansion
Max Ernest and surrealist collage
Joseph Cornell
combines, assemblages
Neo-Dada?]
Save
Save
Save
Save