Someone has posted to the talkback page asking how the strike will affect our schedule of assignments, lectures, and viewings in CULT 2001. Obviously I can't answer this precisely until I see how long the strike lasts, but I can make a few general remarks.
If we were in class this week, the rest of the schedule would look like this:
week 07 Intellectual Property (view Rip: A Remix Manifesto and discuss)
week 08 Détournement and Digital Culture (lecture)
week 09 Culture Jamming (exercise + proposal workshop)
week 10 Fan Culture 1
week 11 fan culture 2 (view The People vs George Lucas)
week 12 PROJECT SHOWCASE/WORKSHOP 1
week 13 PROJECT SHOWCASE/WORKSHOP 2
week 14 final exam
I have no intention of cancelling the creative projects, and we have to have a final. Everything else could potentially be condensed or provided as readings online as necessary. I would likely cut material in roughly this order:
we miss 1 week: Skip week 11 movie and watch Rip! then
we miss 2 weeks: Skip week 11 movie, push back weeks 08, 09, 10 one week each; assign Rip! for home viewing
we miss 3 weeks: skip culture jam class, week 11 movie, convert proposal workshop to an online workshop, and assign Rip! for home viewing (week 10: Détournement, week 11: Fan Culture – the 5% culture jam assignment would then likely be changed to a 5% take home assignment on Rip!)
If we miss more than 3 weeks, I will have to revisit this.
Unless the strike lasts a month or more, we will likely watch Rip! A Remix Manifesto, whether as a class or as a home assignment. If you're not sure how to use this time this week, think about your project, if it's coming along try to put it into the worksheet and this may help you to think about it more or harder, and watch Rip! A Remix Manifesto.
yours from the picket line,
comrade jim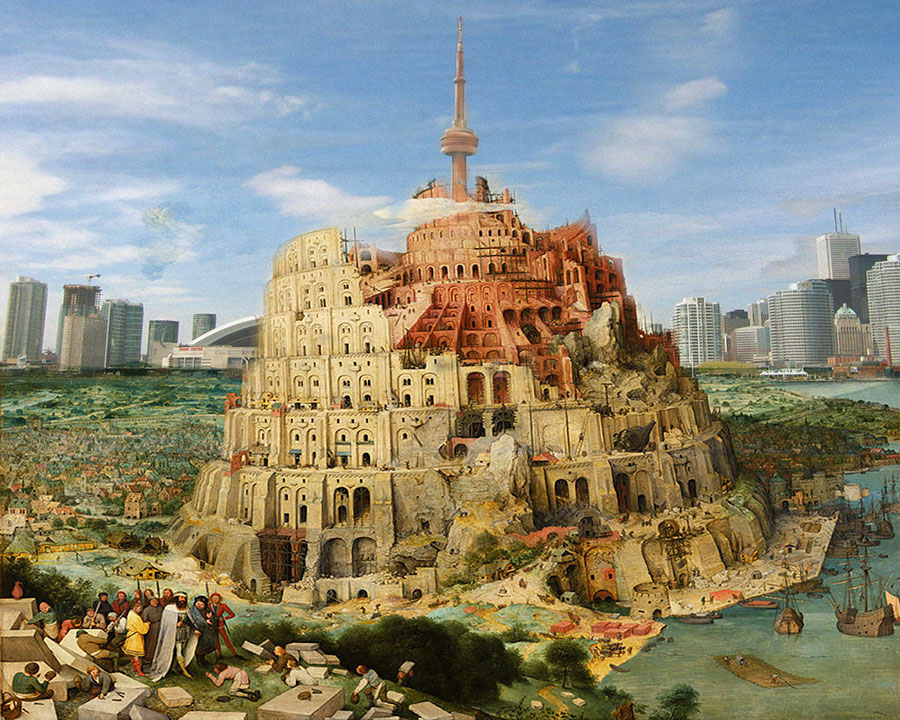 Olga Kalinina, CN Tower of Babel (2015)
Please pardon any train wrecks.